"The Bet" is a documentary with humor and realism about the quarantine and distance learning in 2021. The camera follows students and teachers daily at school and at home and records how this unprecedented experience formed their relationships, on and off screen. Nadia and Annie, Principals of the school, encourage intimacy and cultivate confidence in an "open" school which allows the camera lens to reveal emotions, dreams, difficulties and impasses. It ultimately lets the viewer decide who finally wins the bet and how: physical presence or distance learning?
The issues
The lockdown as a catalyst for student- teacher relationships
Technology, screen time and communication solutions
Apps and mobile devices as official tools for education,
Teenagers' need for communication, body expression and play
Encouraging young people to express themselves, allowing for warmth and equality
Glimpses in the everyday life inside a classroom and their interactions
How the school can overcome restrictions to offer memorable moments and a positive attitude
WHO- The director

WRITTEN & DIRECTED BY MARIA LEONIDA

---

Maria Leonida is a documentary film director, co-founder and Director of Karpos, Centre for Education and Intercultural Communication, (est.2008) running Greek and European film literacy projects. Her documentary work has been screened in Film Festivals and TV channels around Europe with various subjects on art and society. Her first short, One man show, was invited at the New Talents section of IDFA in 1996 and screened in numerous festivals, while her first medium length documentary, Tough Pose, won the 2nd best Greek State Quality Award in 1998 and Best Documentary at the International Short Film Festival of Drama. She has produced and directed documentaries for the Greek Film Center, ERT SA, EBU, ZDF and EU media projects. She has worked with vulnerable communities in both her documentary and teaching work.

As the director of Karpos, Maria designs and implements educational materials on the creative and critical aspects of media expression for a range of learners in and outside schools. Recent projects include: A suitcase with images and sounds (shortlisted Evens Critical Thinking Award 2020), Photography for refugee groups 2018-20, Opera and Animation 2017-18, In my own view 2016 (shortlisted Evens Media Award and winner of the MEDEA Special Prize 2017). She leads Karpos' successful partnership in several EU projects: the Film Literacy Advisory Group 2015-20, Silence Hate 2018-19, Migrated 2019-20 European Media Literacy Standard 2015-17, AppYourSchool 2016-18, Youth Docs, 2014-16, North Aegean Narratives 2011-12, Videomuseums (2010-12), Ecowomen 2008, CH.I.C.A.M 2002-3, University of Frankfurt, the JOBAct, the Theatre Pedagogue Association of Hessen, Germany. Maria trained in filmmaking in London and Denmark. She holds a BA in History and an MA in Art History.

WHO-The crew

MAIN CREW

---

2nd camera / Maria Leonida
Editor / Aliki Panagi / She studied cinematography at the Stavrakos Film School in Athens Greece, and trained as an editor under the well-known Greek film editor Giorgos Triantafillou. Since 2002 she has been working as a picture and sound editor on fiction films and documentaries. Her work includes current affairs documentaries for AL JAZEERA, children's fiction series for the BBC, historical documentaries for Greek TV, and fiction feature films for International co- productions.
Sound Editor – Mixer / Persefoni Miliou
Color Correction / Manos Hamilakis

WHO-The community

SPECIAL THANKS

---

The Principal and Vice principal did their best to help us get to know the students' and teachers' community. Teachers gradually trusted us and allowed us to become part of their classes. The same happened with the youngsters during breaks and class time but of course that was a step by step process like in all character based documentaries.

As experienced educators, the Principals, were interested to offer experiences to the whole school. They considered the presence of the crew and the recording porcess as an additional encounter for the community. On a very crucial day, that the school was going on quarantine again, Mrs Tsene was ill, so the crew and myself were even asked to keep her class busy with a high level film workshop, presenting and explaining to them all about our professional equipment.
During 2019 I collaborated again with the Avlonas High School as a result of my work in teachers' training in film education. The school has an inclusive attitude to multicultural students and it soon becomes evident that a small teachers' community is trying to offer as much as possible to all of their students. Once the lockdown started I could soon find out that their online relationships only mirrored their previous face to face efforts.
Avlonas combines certain contradictory elements. One hour from Athens, in a small, not particularly interesting or picturesque village, with a small student community of 150 youngsters. Thanks to the long service of a devoted Principal, Nantia Tsene and her close indispensable colleague, the Vice Principal, Anny Keki, the school offers a few active teachers the opportunity to build warm and open everyday relationships with a global approach towards learning.
Here they try to materialise their vision for a participatory school, where all students are welcome to have a place and develop.
The first global quarantine proved that the teachers managed to engage 95% of their students in everyday "classroom" meetings and they experimented with online ommunication channels much before an official nationwide online platform was established. Zoom and Viber stood out as their companions to activate their small community.
When the application was aproved, the 2nd quarantine already had started in Greece so we engaged in following "everyday" school life, as it happened: in houses, teenage and teachers' rooms and in an empty school.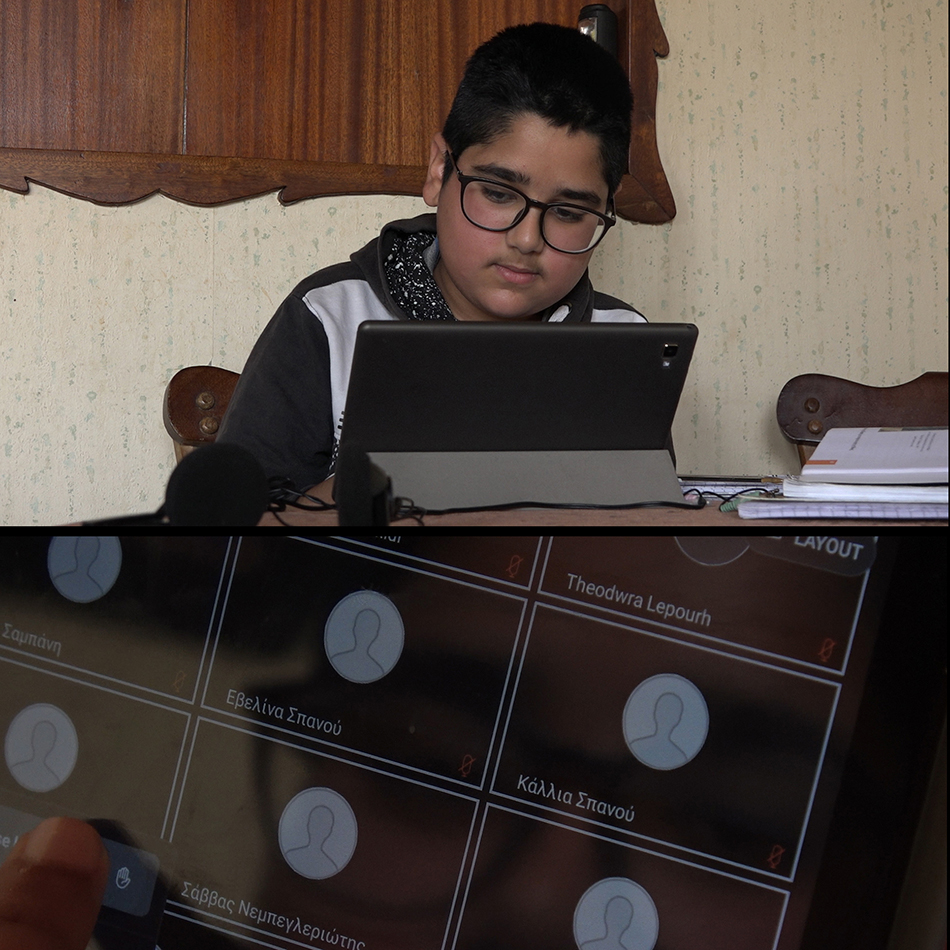 WHEN
The lockdown experience gave me the chance to materialise an idea which was in my mind since 2017, to follow the everyday life in a normal public school. Originally I wanted to observe and reveal the bits and pieces of how education can be a field of creative change for the difficult age of teenagers and how the rigid school structures can -or cannot- be enriched by initiatives.
However, already from the first week of online communication and lessons in March 2020, I sensed that this experience was going to be crucial and I started peeping as much as possible at my 2 teenage sons' rooms, discussing with them to find out how they went through that unexpected phase. I read articles and posts from all over the globe on how teachers and parents experienced it. Due to this particular historical moment,in this documentary I combined two of my interests: school life and distance learning. I took advantage of education's critical moment to shed some light on certain issues involved in the anthropology of attending a High School.
So when the opportunity of a Ministry of Culture funding scheme came, I wrote a proposal combining my interest for active teachers and the world wide subversive quarantine experience.
Shooting started in January 2021, during the winter lockdown. Schools were closed already for 2 months so we first met and shot teachers and students in their houses, getting to know the details and personal moments of the solitary, awkward distance learning which COVID19 imposed to hundreds of thousands of students, teachers and families. Chris, the cameraman and myself equiped with 2 cameras and a few mikes, joined different people in their private rooms, listening to their learning and teaching sessions, being with them during break time, moments of tech hazards, blockings, communication efforts, dispair or boredom. Alone and together, our protagonists, kept trying, each one in their own way, to keep a good spirit and some kind of schooling, which often varied and could evolve in unexpected manners. Organising time, activites and the everyday routine had aquired a completely new concept.
We also followed the two Principals at their weekly work in the empty school. A deserted space, usually full of silence, however the flame was kept alive by the two dedicated women. When schools opened, the scenery completely changed. We were "all together again" but still restricted, careful, due to the measures. However the High School of Avlonas made their best to keep school life alive! We kept shooting, as if everyday would be a unique day. We kept watching the news, like everybody, as nobody could be sure of how the virus and government decisions would develop.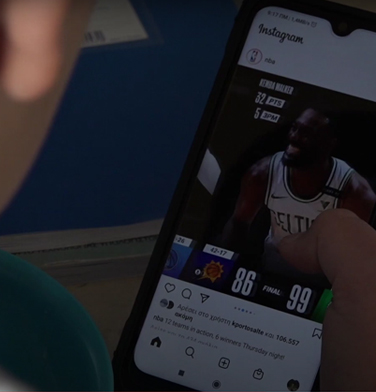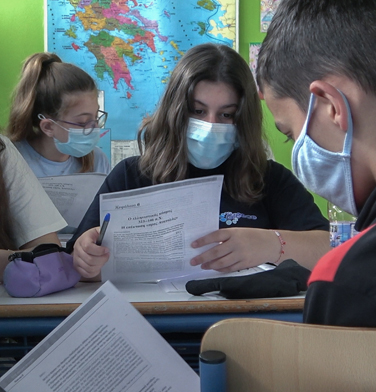 DOWNLOAD
HIGH QUALITY
PHOTOS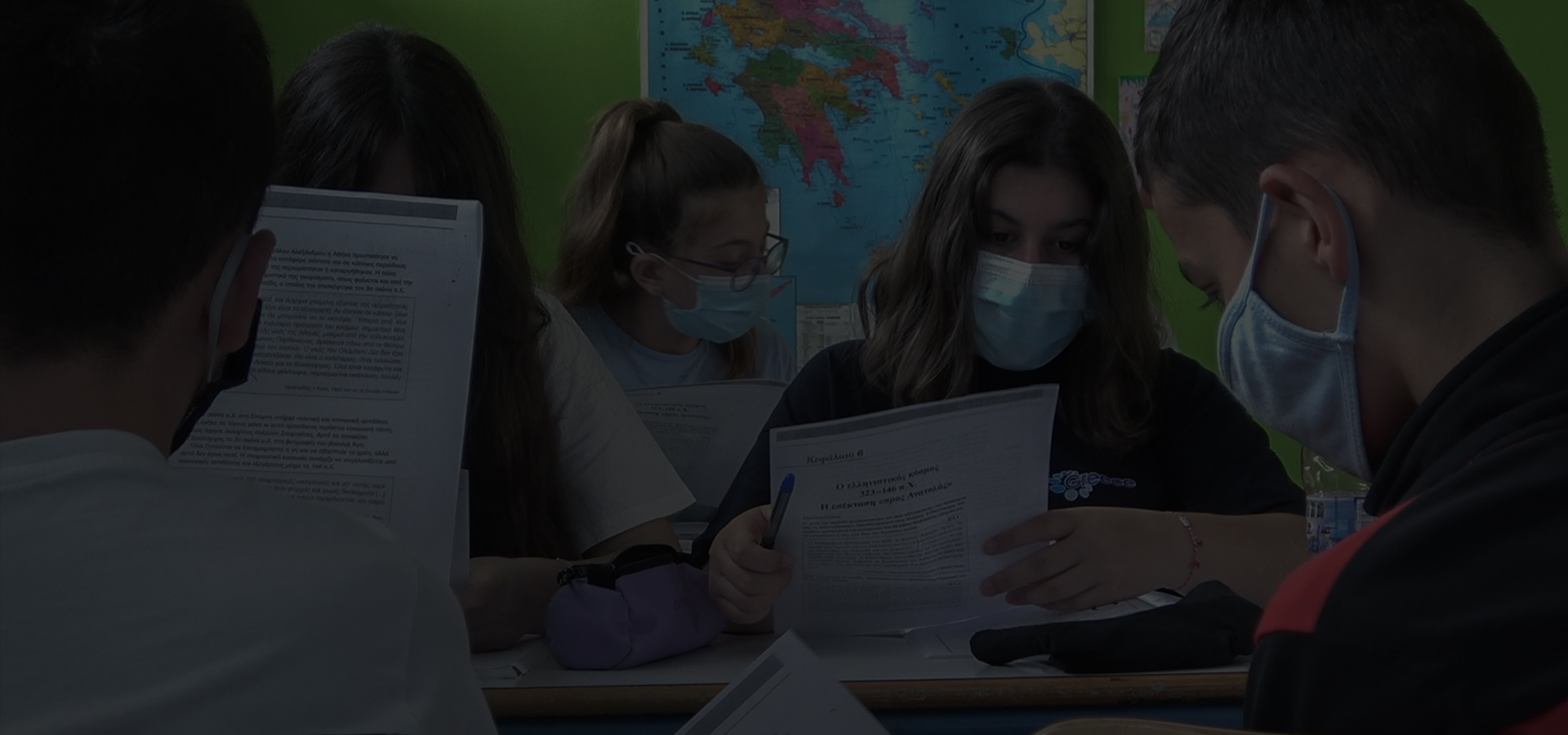 CONTACT DETAILS
Maria Leonida : maria@karposontheweb.org
Address: Sarri 4, Athens, Greece ,10553
Phone:+302130435978, +30 6973497198
Sponsored by the Hellenic Ministry of Culture and Sports and supported by the Greek Film Centre
www.gfc.gr/en/ manolopoulou@gfc.gr